(Video link here.) Stoney Emshwiller was 18 years old when he recorded himself interviewing his older self in 1977. Thirty-eight years later, a 56-year-old Stoney answered his younger self's questions, on film. Here's a trailer of "Later That Same Life", the astonishing film he is raising money to finish.
During this one-way conversation, I asked my older self tons of questions about my future – from career to family to art to friendships to sex. Then I recorded many different reactions to each possible answer, ranging from polite nods, to joy, sadness, annoyance, surprise, and outright horror.
The full film will be a dialogue between teen-aged and middle-aged selves, as the 56-year-old answers his 18-year-old self's questions.  In his RocktheHub campaign Emshwiller sums up the very compelling issues the film raises:
WOULD YOU BE WILLING TO FACE THE PAST?

It's about the expectations we put on ourselves.

The difference between potential, ambition, and reality.

What is success?

What is failure?

Who decides how to judge a life?

The past is still in us, wanting answers. Maybe it's time to stop running and have a talk.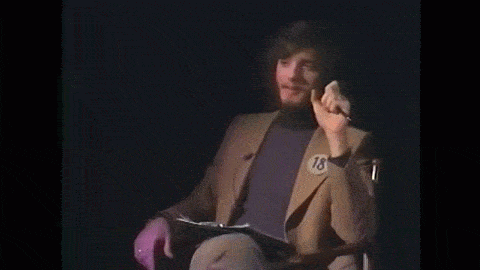 We are stunned by the young Emshwiller's forethought, imagining that he would one day be middle-aged and having lived a good part of his life.  And having many questions to ask his future self.
It's a practice we might employ, in diary form, no matter what our age, as we travel our path…
via Kottke; gif via BoingBoing