(Video link here.) Australian competitive hurdler Michelle Jenneke dances to get ready to run hurdles.
She hears music in her head and dances to it. She has been doing the same dance since she was first started racing, a routine that has worked for her for years. Jenneke starts with enthusiasm and momentum to launch into extraordinary movement, using the dance's performance energy to get ready.
The first 3 1/2 minutes in the video, above, shows Jenneke happily, energetically grooving, then flying down the course. It's a superb example of creating a personal, studied, rehearsed routine, that uses excitement and imagination to focus and feed yourself for performance, or just about anything you do in life.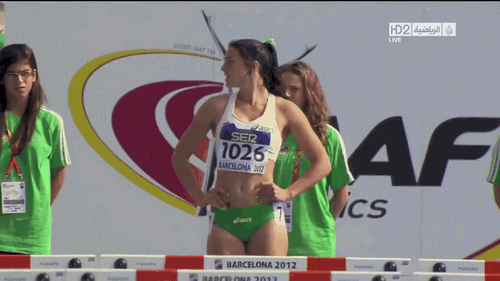 It doesn't have to have a dance that gets you going. A personal routine could be as simple as imagining the scent of something you love; picking a theme song for your day; taking three breaths to consciously transition in or out of a meeting; wearing an imaginary power costume (a cape, crown or wings, for example).
Thinking of a simple aspect of physical movement as you go through your day can be a particularly powerful focusing tool that helps you renew your attention to the present moment. For instance: "I am alive and moving" or "Whenever I do anything all of me moves."
The key for any of these is to link the routine directly to what you want. "I imagine my whole self moving to help me: make this jump shot… write this email… listen carefully to someone I love…"
What we can learn from Michelle Jenneke is that your personal routine is a way to get ready to do something you care about: it's an active YES. In her routine there is no pre-emptive tightening, nor is there relaxation, both of which would hinder her ability to race. The routine she has chosen gets her perfectly ready for the task at hand: springy, explosive movement that makes her soar.
A strong, constructive WANT (your goal) with an appropriate HOW (your personal routine) will help you overcome anxiety, release unnecessary tension  and move through anything that leads to being less than yourself. It will get you READY.
Kate is an Alexander Teacher, movement consultant and performance coach. Read her detailed analysis of how this technique works for performers, and in your movement and life, here".
Gif via gifrific; more People with Wings by Yochai Matos here.